Iberia unions call off December strike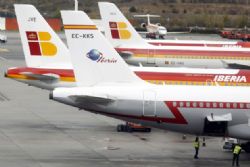 Unions at Spanish airline Iberia on Monday called off a six-day strike in December to avoid disrupting holiday travel while warning that protests over massive job cuts might follow later.
The strikes, planned largely for the week before Christmas, threatened to damage Spain's image and the finances of the loss-making airline. Rivals would have also been hit by the absence of Iberia baggage handlers at many Spanish airports.
Unions failed to reach any agreement with Iberia over a major restructuring of the company at the latest round of talks on Monday, opening the door for strikes at another time.
"We've decided to call off the strike because of the dates and because we don't want to harm passengers when Iberia bears an exclusive responsibility," a spokesman for USO (Union Sindical Obrera) trade union told Reuters.
"Until January, depending on whether disagreements persist, we will study new actions."
Iberia, along with BA, is part of International Airlines Group (IAG), which said in November it would axe about 4,500 jobs or a quarter of Iberia's workforce, and cut capacity to try and the airline more competitive.
Last week Iberia said it was dropping routes to cities such as Athens, Cairo and Havana next year. The strikes were set for December 14 and the five days from December 17 to 21, a key period for holiday travel.
The Iberia strikes followed a pattern of industrial action across Spain this year, with some accelerating in recent weeks, including in other tourism-related areas.
Workers at Spanish luxury hotels, known as Paradores de Turismo and often housed in historic castles and palaces, on Friday started a 2-day strike to protest against job cuts and threatened closure at the state-run chain.