Joint Ministries meet to discuss Corvera Airport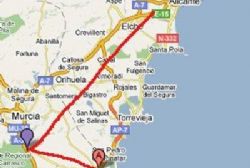 Members of the Interministerial Defense Development Commitee (CIDEFO) met earlier today to give their final approval of the airspace surrounding Corvera Airport.
In addition to the Ministry of Defence and Ministry of Development, the meeting was also attended by represntatives of AENA and the European Aviation and Safety Agency (EASA).
The designated airspace around Corvera airport was approved by CIDEFO's technical inspectors some weeks ago, meaning that if the final approval is passed after today's meeting, official notification of this could be made via publication by the European Commission before the end of January.
The next phase of the project is expected to focus on how AENA, the Ministry of Development and San Javier Airport will manage the transition phase between the two airports.
With AENA's recent 'Tweet' that they have no intention to close San Javier, and yesterday's auction of the Duty Free operations at all Spanish Airports - Including San Javier - there is currently much speculation regarding whether the older airport will actually fully close.