Spain receives European bank bailout funds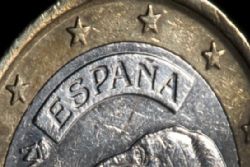 Spain received around €40 billion in European aid for its nationalised banks earlier today as agreed in a bank rescue package the country requested earlier this year, a spokeswoman for the Economy Ministry said.
"The funds from the European Stability Mechanism (ESM) have been received...for the Group One banks," the spokeswoman told Reuters, referring to banks taken over by the state, which account for just under 20% of the national banking system.
Euro zone finance ministers agreed a credit line of up to €100 billion in June for Spanish banks hit by a burst housing bubble.
Economy Minister De Guindos said in November that Spain would tap around €40 billion in EU funds.
The money was expected to be transferred on Wednesday.
Spain nationalised Bankia, Catalunya Banc, Banco de Valencia and Novagalicia Banco - which is also known as NCG Banco - after losses on lending during a decade-long property boom left them dangerously short of capital.
The banks must slash their balance sheets, cut jobs and impose losses on their credit bondholders as part of the rescue package, while Banco de Valencia has been sold to Caixabank for just €1.