Spain will not use state lottery to fund regions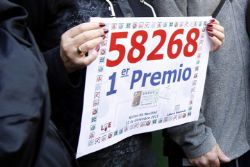 Spain will not use the state lottery to raise funds for its cash-strapped regions, the Treasury said on Tuesday, after pay-outs to nine autonomous territories came in around 1/3rd less than expected.
"The Treasury has decided not to proceed with the national lottery debt plan because this additional financing is not needed," Spain's Treasury said in a statement.
The lottery, which boasts the world's biggest jackpot, is Spain's most profitable publicly-owned company.
The country's 17 regional governments lie at the heart of concerns about Spain's ability to meet its strict Europe-agreed deficit targets as a second recession in 3 years means falling tax take for the regions, which control healthcare spending.
Spain set up the regional liquidity fund (FLA) earlier this year to help local governments with their borrowing costs. It agreed to pay out €12.6 billion in 2012, the Treasury also said, less than the €18 billion originally earmarked.
9 regions - Andalusia, Asturias, the Balearic Islands, the Canary Islands, Cantabria, Castilla-La Mancha, Catalonia, Murcia and Valencia - tapped the fund in 2012, the Treasury said.
Spain planned to use its national lottery, Sociedad Estatal Loterias y Apuestas del Estado SA, to tap money markets for €6 billion to support the fund, with €4 billion from the Treasury and the remainder from banks.
Banks had asked for changes in the proposed structure and terms of the loan for the national lottery due to its Spanish risk profile and lack of international business.
The government will set aside €23 billion for the special fund, according to a budget amendment.