BBVA not to invest in SAREB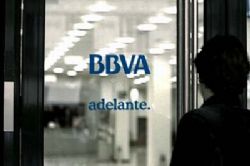 Spanish bank BBVA will not join domestic peers in investing a total of around €2.5 billion in the country's so-called "bad bank" - otherwise known as SAREB - 4 sources with knowledge of the matter reported earlier today.
Spain's 2nd biggest bank's reluctance to invest in the bad bank, set up to siphon off bad property assets from bank balance sheets, will be a blow for the government which had hoped the biggest banks would all invest in the scheme.
It was not immediately clear why BBVA had decided not to participate and the bank, which had been blowing hot and cold on its involvement in the bad bank since September.
BBVA declined to comment.
Ibercaja,Banco Popular and a number of other smaller banks will invest a combined €2 billion, according to one of the sources.
Insurance companies and private investment groups will deliver the remaining €500 million, the source said, adding the latest round of talks was on Monday.
Caixabank and Santander will be the main private contributors with €600-700 million each, while Popular and Sabadell will invest €250-300 million each,the sources confirmed.