Spain "Doesn't need more funds" : ESM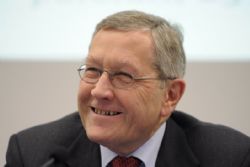 Klaus Regling, the managing director of the euro zone's permanent bailout fund ESM, doesn't expect Spain, nor other countries, to be needing more financial aid, he told Expansion in an interview published on its Wednesday Internet edition.
"Governments are doing their homework so I don't expect more countries to request help or more help," he told the newspaper.
He added that Spain is not in a very difficult situation, as the country's has never lost access to capital markets, even though interest rates have reached as much as 7% at times.
Regling said that measures adopted by the Spanish government in terms of fiscal consolidation, as well as structural, labor and pension reforms, have attracted foreign investors back and persuaded markets.
However, he also warned that "there are two more years ahead to complete this process and it won't be easy on the population," he told Expansion.