Spain seizes assets owned by Egypt's Mubarak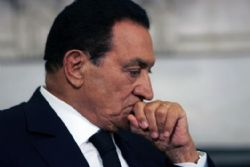 Spanish police have found €28 million in assets owned by ousted Egyptian president Hosni Mubarak and people close to him, including Marbella beach properties and luxury cars, the government said on Thursday.
Egypt had asked Spain to track down assets in the country belonging to the former president and more than 100 people with ties to him, including family members, people who held high-level posts in his government and business leaders.
Spain's interior ministry said it had frozen €18.4 million worth of the assets, but did not say whether it would also freeze the remainder.
The properties include 2 houses in La Moraleja, a wealthy neighborhood of Madrid, 7 properties in the Mediterranean beach resort of Marbella, financial products in 3 banks and also luxury vehicles, the ministry said in a statement.
"The assets could come from crimes such as embezzlement or corruption," the government statement said.
Egypt has asked several countries in Europe and elsewhere to locate assets of Mubarak and people close to him. Switzerland has also frozen assets of the former Egyptian president.
Mubarak, who ruled Egypt for 3 decades, was forced out in February 2011 after a popular uprising.
In June, he was sentenced to life in prison for his role in killing protesters during the uprising. He is currently in a military hospital because of health problems.