40% of Spaniards to be "Poor" by 2022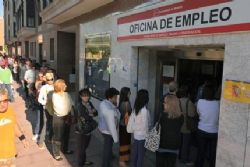 Almost 40% of Spaniards will be living below the poverty line within the next 10 years unless the Government doesnot reverse cuts to spending on social welfare, according to a recently published report.
Intermon Oxfam noted how on-going austerity measures now mean that 12.7 million people living in Spain - 27% of the population - are now officially classed as being poor.
The Charity sees this number growing to 38% within a decade - numbers which are comparable to Latin America and Asia.
The country would then need 25 years to return to 2008 wealth levels, Intermon Oxfam director Jose Maria Vera said.
The charity bases its calculations on definitions of people at risk of poverty or social exclusion accepted by the European Anti-Poverty Network, a spokeswoman said.
The report also noted how the rich-poor divide is widening.
The richest 20% of the population were revealled to earn around 7.5 times as much as the poorest 20% last year, increasing to 15 times more by 2022.