Expats in Spain confused by healthcare system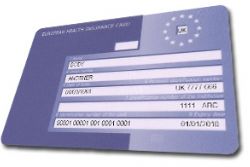 Expats in Spain are continuing to use the European Health Insurance Card (EHIC) instead of registering as residents, it has emerged.
According to the British Consulate in Spain, many expats are confused by the local healthcare system, and are therefore failing to use it properly, reports the Olive Press.
Martyn Standing, from the Consulate, said: "There is a fair amount of confusion out there – and because of that confusion, we get an awful lot of complex cases to deal with in the consulate.
"And most of them are down to a little piece of plastic, the EHIC."
He went onto say that this is putting a strain on the country's healthcare system, as it is designed to entitle those on holiday to treatment which cannot wait until they return to their home country.
Instead, a large number of expats are using their EHIC cards every time they go to the doctor for ongoing medical conditions and monitoring.
Mr Standing said: "There are a lot of people who spend a large part of the year here but do not consider themselves to be residents – but when we have given them the correct information, do consider themselves to be residents."
Click here to read More News Stories by Expatriate Healthcare?