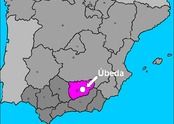 Spain's National Geological Survey (IGN) has reported how a total of 9 seismic activities have been felt close to the Town of Ubeda, Jaen, over the course of the las 24 hours.
Although the tremors were relatively minor - measuring between 1.5 and 1.9 on the Richter scale - they were recorded as taking place as close as just 1km from the surface.
The most recent activity occurred at 13:47 Spanish time, with an epicentre close to the villiage of Sabiote, to the north of the Town.
The South and East of Spain is particularly prone to seismic activities due to its proximity to the area where the European and African tectonic plates meet.
The area is also popular with dweller of cave houses, which are particularly at risk from such activity.
A report issued by the University of Madrid and published in the Geological Society of America bulletin just last month commented how an earthquake similar to the 2 seismic events that shook the town of Lorca, Murcia, "could happen again in the near future".