Average Spaniard buys 3 El Gordo Lottery tickets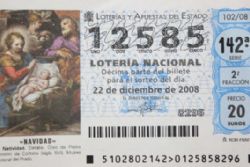 The Spanish State Lottery - Loterias y Apuestas del Estado (LAE) - has confirmed how the average Spaniard has already spent at total of €70.60 on tickets for the El Gordo de Natividad Christmas lottery draw.
This compares with €71.28 for 2011.
The data - which only includes the period up to October 22nd - will not be finalised until the actual day of the draw when pupils from the San Isidrio School in Madrid will make the draw infront of a panel of adjudicators.
Residents of Castilla y Leon have spent an average of €101.54, followed by La Rioja with €100.93, Asturias €98.20, Aragon €91.24, Madrid €86.69, Basque Country €84.51, Valencia €78.54, Cantabria €76.74 and Castilla la Mancha with €73.66.
Those spending the least amount on El Gordo Lottery tickets this year are from Melilla (€16.66) and Ceuta (€17.35), followed by the Balearic Islands (€39.79), Canary Islands (€42.69), Andalusia (€49.17), Extremadura (€56.66), Navarra (€58.43), Galicia (€67.28), Catalonia (€68.25) and Murcia (€71.14).
The average "Decima" - or one-tenth of a ticket - costs €23.
>> Purchase your El Gordo Lottery ticket online NOW - Click for more info <<