Further 17 Andalucia Earthquakes since Midnight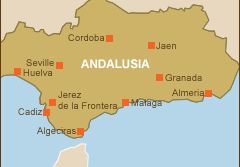 The Spate of Earthquakes and Tremors felt over the last 7 days - and increasing in both frequency and instensity over the weekend - has increased further still since midnight on Sunday.
Since 00.00 Spanish time the National Geological Survey (IGN) has reported a total of 18 new seismic activities.
As in previous days, all event were recorded in an around the villages of Sabiote and Torreperogil, to the North and West of the larger Town in Ubeda, Jaen province.
This morning's actiivities ranged from 1.5 to 3.3 on the Richter scale and up to 4 on the Moment Magnitude Scale. Recorded depths varied from 1 to 14km.
Three of the Earthquakes were strong enough to be felt by local residents on the surface.
The number of seismic activities recorded in the latest series of events to shake the area now stands at 57.
The Christmas Day earthquake of 1884 claimed 200 lives when it destroyed properties across a 6'000 square kilometer area of Andalucia. The epcenter of the Christmas day earthquake was estimated to be the Sierra Tejada mountain range, just 100 km to the south of Ubeda.
Read more about this weekend's earthquakes in Jaen by clicking the link >> HERE << .