Spain's Iberia reaches union deal to negotiate job cuts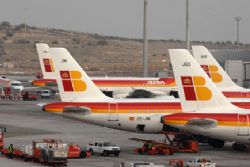 Spanish flag carrier Iberia Airlines has agreed to negotiate with its unions over a 5-year restructuring plan to ensure the airline's future viability, the company said on Monday.
Unions had threatened strike action in protest against plans to axe about 4,500 jobs, or 25% of its workforce.
Iberia, which is part of International Airlines Group (IAG) along with British Airways, says that the job cuts are needed to guarantee its survival amid rising competition and Spain's recession.
Management and unions representing ground and cabin crew will negotiate the shape of the job cuts until Jan. 31, Iberia said in a statement on Monday. It also invited pilots union SEPLA to join the talks.
The ground and cabin crew unions, which represent 93% of all employees, will not call any strikes in January after Monday's agreement, a union spokesman told Reuters.