El Altet Director 'not worried' by Corvera Airport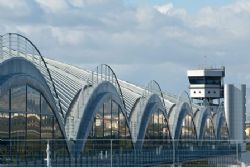 In an interview with Spanish daily Newspaper, Informacion, the Director of El-Altet Airport, Alicante, has commented how he is not worried that Murcia's new Corvera International Airport will result in a fall in passenger numbers for his facility.
Santiago Martínez-Cava went on to say how he was confident that there was a "Sphere of Influence" for each airport, and that 2013 would see a return to a growth in passenger numbers for the Costa Blanca airport.
Despite being built for a capacity of 20 million passengers per year, the new terminal building has barely seen a 50% capacity since opening backin March, 2011.
The Director also spoke about AENA's on going relationship issues with Ryanair, after the airline cut routes and frequencies of flights to the airport earlier in the year following the Airport's decision not to allow the dismebarking of passengers on foot.
"I'm not losing any sleep", he explained to reporters.