Andalucia Earthquakes for 17th December total 39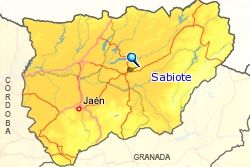 Today - the 17th of December - has seen a total of 39 seismic activities hit the outskirts of the town of Ubeda, Jaen.
The National Geological Institute (IGN) website reported how the intensities recorded varied from 1.5 to 3.3 on the Richter scale, and that the depths measured from 1 to 10km.
Two of today's earthquakes were felt on the surface.
About half of the activities were strong enough to be recorded on the MMS (moment magnitude scale), measuring as high as 5. The MMS is useful in understanding Seismic activities as the Richter scale ony measures the strength of shockwaves and not the impact that it has on the surface. So whilst the Richter scale measures seismic waves, or vibration, the MMS measures energy, or the distance of 'slip' between the fault, and the part of the surface unaffected by the quake. MMS is generally only used as a measurement of earthquakes that are over 3.0 on the richter scale, any less and the effects on the surface would be too low to measure.
The official town hall website for one of the villages on the outskirts of Ubeda - Sabiote - reminded local residents that a certain degree of seismic activity was normal, but still urged caution, and published a list of procedures to follow in the event of a particularly strong earthquake striking over coming hours or days.