FROB values 3 of the 4 rescued Spanish Banks at a loss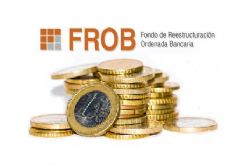 FROB - the Spanish Fund for Orderly Bank Restructuring - proposed a negative valuation for 3 of the 4 nationalised Banks rescued by the Bank of Spain following the latest round of EU stress tests.
The Banks will are all top recieve funding from the EU over the course of the next few days.
Yesterday FROB issued a statement announcing how it placed the valuation for Novacaixa Galicia at €3.09 billion, Catalunya Banc at €6.67 billion and Banco de Valencia, which was sold recently to Caixabank, at €6.34 billion.
Later in the day FROB also went on to say how that as part of the recapitalization plan of Catalunya Banc it will buy all of the bank shares owned by Catalunya Caixa for €1, while converting the Catalunya Banc's preferred shares into ordinary shares of the entity for a total of €1.25 billion.
Earlier this month the European Stability Mechanism issued €39.5 billion debt for the recapitalization of Spain's most troubled banks. The FROB will use around €7 billion for the planned recapitalization of Bankia and the other 3 rescued lenders.