Sabadell agrees to buy part of BMN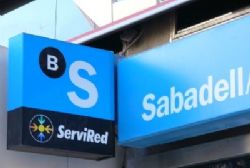 Banco Sabadell said todayit had reached a deal to buy Banco Mare Nostrum's (BMN) branch network and business for €350 million in 2 Spanish regions.
Under the deal, Sabadell will acquire €10.6 billion in customer loans and €7.9 billion in deposits in the northern regions of Catalonia and Aragon.
Spain's 5th largest lender will also take over 461 BMN branches, increasing its customer base by 900,000 clients.
"The difference between net assets and liabilities is expected to differ by around €350 million, which will be neutralised in cash," Sabadell said in a statement.
BMN, which was formed by the merger of 4 Spanish savings banks following the end of the country's housing boom in 2007, is expected to become the eighth financial lender to be taken over by the Spanish state.
The assets and liabilities Sabadell will acquire will exclude the parts of BMN's business that will be transferred to Spain's "bad bank."
The bad bank, a condition for Spain to receive up to €100 billion in EU aid for crippled lenders, will take up to €90 billion of toxic real estate assets out of the banking system.
An independent audit of Spanish banks found BMN had capital needs of €2 billion.