Spain to increase toll road fees by 2.4 pct from 2013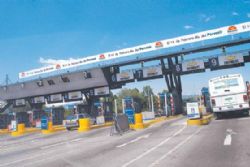 El Mundo has reported how tolls on the country's Motorways are due to increase by 2.4% from January 1st 2013.
Sources have revealled how the Central Government is to apply the 2.4% increase at all of the country's Peajes with the exception of those in Cataonia and Navarre, the Soller Tunnel in Palma de Mallorca, and a few samller motorways in Galicia and Pais Vasco, where the increase will be 3.3%.
Tolls increased by 3.2% last year - higher than the 2.9% rate of inflation - on top of a number of older Motorways applying a futher increase in the summer.
The increases come at a time when many toll road operators are facing bankruptcy, citing falling revenues. Revenues are falling due to the cost of tolls increasing beyond what motorists deem to be acceptable, and hence fewer driver are generating fewer tolls.
The Government's solution to this ? : Increase tolls further still.
The state highways network recorded an average daily traffic (ADT) of 17,475 vehicles between last January and August, according to the latest data released by the Ministry of Development. This represents a decline of 10% over the same period of 2011.
In the case of the country's Motorways, traffic numbers have fallen by 13%, to just 7,005 users per day.
As the crisis and recession are taking their effect on the finances of the average motorist and small businesses, it is surprising that the Government are unable to see that increasing toll fees can only encourage a vicious circle of falling useage of the Motorways.