"No Justification" for Fabra to remain in charge of Castellon Airport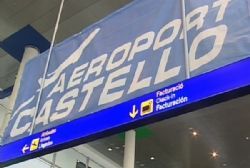 Marina Albiol, the Regional Deputy for the Esquerra Unida del País Valencià (EUPV) political party has continued her crusade against the continued waste at Castellon Airport.
Speaking in front of the Cortes yesterday, Albiol went on to state how it was "unacceptable" that Carlos Fabra was able to retain his position as Presdient of Aerocas - the concession holder and promoter of Castellon airport.
Albiol pointed out that there had been personell changes in various national and regional Ministers and with Exectives of public companies, and yet Fabra had "survived".
Despite over 300 Million Euros of "wasted" public money, and with no formal announcement for a date of opening / operation in sight, Albiol commented that "there is no reasonable justification for Carlos Fabra to remain in place as the President of Aerocas".
Read further Castellon Airport news by clicking the link >> HERE <<.