Telefonica, Vodafone, Orange fined over texts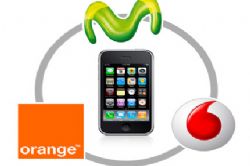 Spain's antitrust body said it fined telecoms companies Telefonica, Vodafone and France Telecom's Orange a record €120 million for charging too much for text messages.
The regulator said on Thursday Spain's three biggest mobile operators had exploited their dominant position between 2000 and 2009 and passed on overpriced services termination rates to consumers with high charges for text messages.
Former monopoly Telefonica must pay €46.5 million, while Vodafone and Orange must pay out €43.5 million and €30 million respectively, the National Competition Commission(CNC) said in a statement.
Revenue from text messages has dropped significantly in Spain to €184 million in Q2 of 2012 from €419 million in Q4 of 2008, according to Spain's telecoms watchdog CMT.
Telefonica charged €0.15 a message in Spain until 2006, when it halved the price in exchange for a fee of €2 per month.
The average cost of MMS messages in Spain rose to €0.64 per message in 2009 from €0.38 in 2005, while termination rates remained stable, according to the CNC.
Operators have faced rising competition from free instant messaging services such as WhatsApp and cheap offers from smaller players like Yoigo and virtual mobile operators.
"Telefonica totally disagrees with the fine imposed by the CNC today because it considers it completely unfair," a Telefonica source said, adding that the company would appeal.
Vodafone, which has the 2nd highest market share in Spain and no.3 player Orange, also said they would appeal the CNC's decision.