Spanish birthrate continues to fall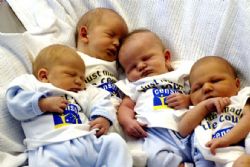 Spain's National Institute of Statistics (INE) today reported how the Spanish birthrate fell once again during the first 6 months of 2012, whereby 223,853 children were born, representing a 2.7% decrease on the same period on the previous year.
The INE report went on to detail how number of deaths increased during the same period, rising in the first half of the year by 9.7% to 217,017.
The data shows how the Spanish population is getting progressively older, a situation that began in 2009, the first year in which a decline in the birth rate was registered.
According to the Natural Movement of the Population and Basic Demographic Indicators survey, the decline in birthrates are due both to the fewer number of women of childbearing age as well as to the reduced fertility among Spanish women - in addition to those of expat women.
However, the number of babies born to immigrant mothers decreased much faster in 2012 - where it represented 18.7% of the total - from 19.1% last year.