179 Earthquakes in Andalucia in last 10 days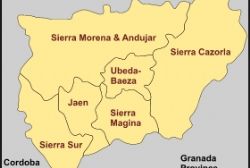 Over the course of the last 10 days the province of Jaen, Andalucia, has been inundated with a swarm of Earthquakes.
Spain's National Geological Institute - or IGN - which is an agency reporting directly to the Ministry of Development has now recorded a total of 178 seismic activities during this period, as of 14:00 CET.
Almost all of these events had epicentres in and around the villages of Sabiote and Torreperogil, to the North and East of the Town of Ubeda.
Although only a very small percentage of these activities registered above 2.5 on the Richter scale, their relatively shallow depths - almost all of which were recorded below 10km deep - have caused concerns that any earthquakes of a slightly higher magnitude may cause damage to property on the surface.
The Richter scale is the most popular and well-known means of measuring earthquake activity, however this method only measures the strength of the shockwaves caused by an earthquake at source. The effects that and earthquake has on the surface is measured by the MMS system (Moment Magnitude System), however because the effects of particularly small, or deep earthquakes are difficult to measure of the surface, the MMS is only usually used when earthquakes are around or above 3.0 on the Richter scale, or are at shallow depths.
Over the last 10 days 6 of the activities have measures IV on the MMS and 2 have measured V on the MMS.
The MMS Scale defines the 3.5 to 5.5 range as "Generally felt by people, but it rarely causing damage".