Castellon Airport "on schedule" for 2013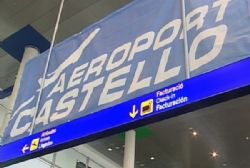 Carlos Fabra, the President of Aerocas, as said that if an agreement was not reached with Airport Concessions before the end of December, Castellon Airport will be sold, subject to reaching an agreement with new buyers.
Airport concessions were appointed to construct the facility before being dismissed earlier this year and are now locked in a dispute with Aerocas and the Generalitat Valenciana, citing breach of contract.
An out of court settlement between the owners of the airport and Airport Concessions is due to expire at mid-day on the 29th of December. If an agreement is not at this time the case shall be taken through the courts. Fabra acknowledged that this would be a lengthy and costly process, but that Aerocas would ultimately abide by any court ruling.
Fabra went on to comment that, following a meeting with fellow Aerocas Directors, the plan to commence operations at Castellon Airport is on schedule.
Read further Castellon Airport news by clicking the link >> HERE <<.