El Gordo : The unluckiest man in Spain ?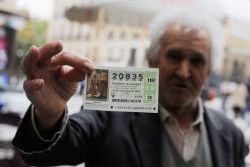 The only resident of the Village of Grañén not to purchase an EL Gordo lottery ticket last year looks as though he might at least get some compensation for his bad luck.
The inland rural village in Huesca, with a population of just 2'000 shared €120 Million after a Housewives association sold hundreds of shares in the winning ticket to raise funds.
The unlucky neighbour who chose not to participate in last year's draw, Greek Expat Filmmaker Costis Mitsotakis, is now making a documentary on his extraordinary bad luck in being one of the few residents not to share in the fortunes of the village.
The outlet that sold the winning series of tickets has been overwhelmed by those seeking to continue the luck of last year, with 3-times the amount of ticket for the 2012 El Gordo draw being sold already.
Costis explained his bad luck as living in a cottage on the outskirts of the village, nobody came to his door to sell him a share in the winning ticket.
Aside from trying his luck with making the documentary, Costis explained that he had already purchased his own lottery ticket for El Gordo, 2012.
With less than 24 Hours to go until the 2012 El Gordo draw is made, this could ne your last chance to take part in the €2.52 Billion draw, and the last El Gordo Lottery draw to see it's winnings not taxed.
>> Click here to purchase your El Gordo Lottery ticket online NOW <<