Spain increases cost of Electricity by a further 3% in January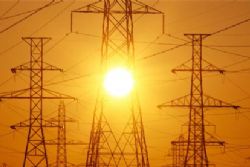 The cost of electricity in Spain is set to increase by 3% as from Jan 1st after power companies, which took part in a bidding procedure under the so-called TUR (Rate of Last Resort) system, offered higher rates for megawatts of power on Friday.
At the same time, consumers who have contracted between three and 10 kilowatts of usage with utility companies, apart from those on a government hardship plan, and who use more than 10% of their average consumption could also see extra charges on their bills of between 1 - 8%.
Power rates to more than 17 million households and small businesses are based on the government's TUR (Rate of Last Resort) system. Rates are charged under a different scheme for large companies, industries and some other sectors.
Friday's bidding closed with the companies offering an average price of €54.18 per megawatt hour.
In July 2009 the previous Socialist government introduced the TUR system to help keep power rates down by freezing prices. But the Supreme Court in 2011 found in favor of the private electricity companies, who filed suit against the government.
Throughout the year, rates under TUR have gone up 4% in April and 7% in July. In October they dropped 2.4% but consumers didn't notice a change given that valued added tax (VAT) was increased from 18 to 21% the previous month.