Spain homeless numbers increase 30% on 2011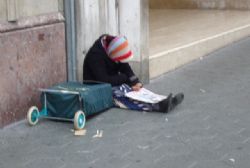 Almost 23,000 people – most of them men – are living on the streets of Spain because they have lost their jobs and homes, as the economic crisis continues to take its toll on the nation, a report by the National Institute of Statistics (INE) revealled yesterday.
Of that number, 32% have lost their homes this year and have had to seek assistance from social aid organizations and shelters.
Men make up 80% of that total, and half of them are under the age of 45.
According to the INE, the main reason for so many people being forced to live on the streets are loss of employment, inability to make mortgage payments, and separation or divorce from their partners.
Spaniards and foreign-born nationals are equally divided in the total figure. Africans make up the largest number of foreigners who have found themselves homeless.