EU to give Spain more time to cut deficit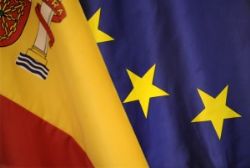 The European Commission will give Spain more time to cut it's public deficits below the target limit of 3% of GDP, El Pais reported on Saturday.
Citing senior sources at the European Commission and in the Spanish government, the daily said Spain would be given until 2015 or 2016 rather than 2014.
The ECB is keen to grant Spain 1 extra year while the IMF is pushing for 2 years more, the newspaper said.
Spain sought support from its European partners this year for its ailing banks, hit by a burst property bubble. Recession is also undermining government efforts to keep the public debt burden in check, and financial markets expect Madrid to seek sovereign aid sometime next year.
PM Mariano Rajoy might delay an aid request if the European Commission announced new fiscal targets for the country in a review due on February 15, the paper said.
According to El Pais, the Commission has agreed for Spain on a new deficit path of 7% of economic output in 2012 and 6% in 2013. That compares to current targets of 6.3% for 2012 and 4.5% for 2013.
The paper also said the Commission would require Spain in return to agree to new structural reforms, including a new pension reform.