Castellon Airport recieved €138 Mln in funding during 2011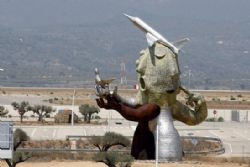 Castellσn Airport recieved a total of €138.4 million in funding up until December 31st 2011, according to a recently published report detailing the general accounts of all infrastructure projects in the region by the Generalitat Valenciana.
The breakdown of expenditure was as follows : Construction and Civil Engineering accounted for €94.1 million; interim expenses €15.5 million; price revision €11.1 million; price increases due to inflation €4.1 million; technical assistance €11.7 million; IT expenses €1.1 million and €554'000 to purchase and operate a fire truck.
Further to this, a total of €4.8 million was spent on marketing and promotion - all for an airport that is still to see the arrival of it's first passenger.
No mention was made for the funding the airport recieved during 2012, which would include the commissioning of the controversial bronze statue of Carlos Fabra, the President of Aerocas, rumoured to have cost almost €500'000.
Read further Castellon Airport news by clicking the link >> HERE <<.