Christmas Day Earthquakes ?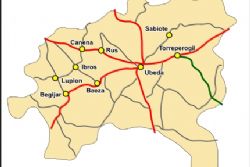 Shortly after 8pm on Christmas Day of 1884 an Earthquake of 5.6 on the Richter scale shook the villages of Albuñuelas and others along the Sierra Tejada in rural Andalucia. An estimated 900 people lost their lives and 14'000 homes were reported to have been destroyed.
The area is no stranger to seismic activity, due to the meeting of the African and Euro-Asian tectonic plates, which also caused the Lorca earthquakes of May 2011.
It therefore perhaps understandable that the residents of Jaen are watching the region's recent earthquake swarm nervously.
Since 18.00 hrs yesterday - the 21st December - Spain's National Geographic Institute (IGN) has reported a total of 12 seismic activities around the Town of Ubeda, Jaen.
The earthquakes all had epicentres around the villages of Sabiote and Torreperogil, to the North of the Town.
Although fewer in number than in previous days, the intensities were higher - with 5 of the earthquakes being felt on the surface and measuring as high as 2.7 on the Richter scale. The depths measured are also relatively shallow, all being less than 5km from the surface.
Read earlier news stories on the Jaen earthquake swarm by clicking the link >> HERE <<.