Bankia transfer €25 bln assets to Spain's bad bank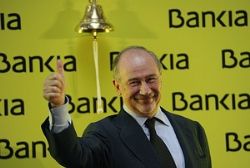 Spain's Bankia / BFA group has signed a contract to transfer assets worth €22.25 billion to the so-called 'bad bank' - SAREB.
The Bank issued a statement saying how this figure was calculated using the criteria and rates set by the Bank of Spain to estimate the value of their assets,which will be transfered on the 31st December.
Of the total amount, €2.8 billion corresponds to assets held by their BFA savings bank division (BFA), and €19.4 billion million from Bankia and its subsidiaries.
Banco de Valencia has reached a similar agreement, and will transfer assets worth € 1.9 billion.
SAREB will manage assets worth around €55 billion from 4 nationalized lenders : Bankia; CatalunyaCaixa; Banco de Valencia and Novagalicia.