Spain charities under increasing pressure this Christmas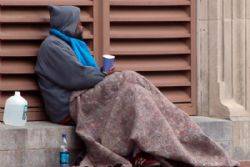 Christmas 2012 is seeing charities playing an increasingly important role in Spain due to to the ongoing financial crisis.
The Red Cross clothes bank in Madrid in particular is reporting it's busiest Christmas for more than 25 years.
Traditionally a resource for the homeless and those living in poverty, over recent years it has been frequented more and more by families who have found themselves under increasing financial pressure due to unemployment.
What's more, the Charity's food bank is also being called upon to feed more and more desperate families at a time when money is scarce.
Just last week the National Institute of Statistics (INE) reported how the number of homeless people in Spain was now estimated to stand at 23'000 people. As many as 32% of this number have found themselves on the streets after losing their homes during the course of 2012.