Economy of Spain to improve next year : Rajoy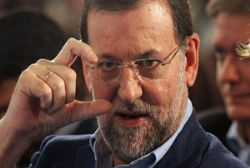 Mariano Rajoy has announced how the Spanish economy will improve next year and to show signs of growth in 2014.
The Prime Minister also acknowledged that the country is undergoing a "difficult moment" but that the situation will improve "if we all work together with determination and live up to our obligations".
Rajoy made the comments to Journalists whilst on an unnannounced surprise visit to Spanish Soldiers on duty in Afghanistan, where he was joined by the country's Minister of Defence, Pedro Morales.
The Spanish leader told the conservative daily El Mundo that he hoped an improving economy would allow him to reverse some painful and unpopular austerity policies, including a rise in income tax.
"I hope next year will be better," Rajoy said.