Expat Winter Fuel Allowance Claims to Increase Six-Fold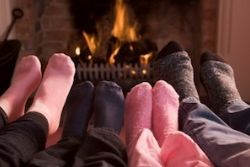 Information released by the UK's Minister for Pensions, Steve Webb, has revealled how some 74,000 Expats recieved winter fuel allowances of at least £200 this year.
Although the figure only increased by around 1'000 on the previous year, there are concerns that the figure could increase six-fold over 2013 due to recent changes by the European Court of Justice (ECJ).
In previous years the benefit was only payable to Expats living within the EU, who were over the age of 60, but had made their application to receive the benefit before leaving the UK.
The changes imposed by the ECJ now states that Expats living in Spain over the age of 60, and with "Genuine Links" to the UK will now be able to claim the Winter Fuel Allowance.
This could result in a further 444,000 British pensioners living abroad now becoming eligible, which would see the government's WFA budget increase from £15 Million to around £100 Million.
The Secretary for Works & Pensions has already proposed the introduction of a so-called "Temperature Test", which - if introduced - could make claims from those living in warmer countries such as Spain invalid.