King of Spain makes Christmas speech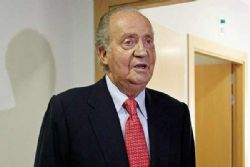 King Juan Carlos on Monday night asked the country's political parties to "heal their open wounds" and return to their "fundamental role in politics with a capital 'P'" to resolve Spain's economic and social crises. In his traditional televised Christmas Eve address, the monarch did not specifically mention the independence drive by Catalan premier Artur Mas, but said that it was time to "leave confrontations behind."
"It is a time for all of us to look ahead and do everything we can to heal the open wounds," the 74-year-old king said. "The serious economic crisis that we have been facing for some years has intensified, grown and continues to persist in a way that none of us could have imagined."
At the same time, the King told the government and the opposition that "not everything is focused on the economy - even though it looks that way."
He also made the unusual stance in this year's address: instead of sitting in a chair, in a formal position, he leaned against an antique desk, behind which stood the flags of Spain and the EU.
"The crown is very aware of the efforts and sacrifices our citizens are making," he said.
The monarch also called on Spanish politicians to seek broader ties with Latin America and work more closely with the EU to finds ways to lead the nation out of what he called the most severe economic crisis in his 38 years on the throne.
Also on Monday, Mas, of the Catalan CiU nationalist bloc, was sworn in to a second term as regional premier. In his inaugural speech, he called on Prime Minister Mariano Rajoy to avoid "collisions" with his regional government as he reiterated his pledge to hold a vote on Catalan sovereignty in 2014.
"There are 2 vessels headed on a collision course, and this isn't a good time for anybody. We should all try to avoid this," he said.