Employees protest over Bankia cuts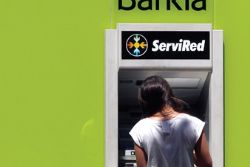 Employees of the country's Banking sector staged protests across Spain over the course of the last few days to show their anger at plans by Bankia to make significant cuts to both jobs and salaries.
Spain's second largest Bank, wahich was nationalized in May to stop it from hoing bust, was kept afloat by a government handout of €18-billion.
The now plans to slash 5,000 Employees and reduce salaries for remaining workers by around 40%.
Daniel Esteban from the UGT commented, "We hope they will change their plan, at least the toughest part of it like so many redundancies. We hope we can stop that, we are simply calling for common sense. We want to negotiate, but we can not negotiate in these conditions."
Bankia was formed two years ago by the merger of 7 smaller struggling financial institutions, identified after a round of stress-tests imposed by the EU.