IAG Chief defends restructuring of Iberia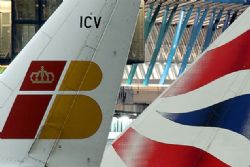 In an interview with El Pais Willie Walsh, the CEO of International Airlines Group, has commented how the Spanish Unions would prefer to see the total demise of Spain's Iberia Airlines rather than the restructuring of the company.
IAG have controlled Iberia Airlines since their merger with British Airways in 2011, however the Spanish Airline's failure to make a profit has resulted in a number of measures, such as the creation of a 'low cost' division - Iberia Express - and plans to cut 4'500 Employees and around 15% of all routes which have become unprofitable.
IAG is forecasting operating losses of €120 million in 2012, mostly due to Iberia's poor performance.
The CEO insisted that there were no plans to break up the IAG Group and that restructuring of Iberia was the only was to see the Group return to profit. Walsh insisted that Iberia was in a stronger position after the merger, yet is still losing around €1.7 Million per day, whislt dismissing claims of the Unions that Iberia was making a a profit between the years of 1996 and 2008.
"The question is, 'how much money did BA make between 1996 and 2008 ?' At least twice as much as Iberia made. BA restructured its business following the financial crisis of 2008, and it did so significantly, by reducing the workforce and introducing new contracts with more efficient wage levels. Iberia did not. That is why British is now profitable while Iberia is losing a lot of money."
He also dismissed claims by Union chiefs that funds had been transferred from BA to Iberia : "Not one penny, not one cent, has been transferred from Iberia to British Airways".