Christmas Day Earthquake hits Lorca, Murcia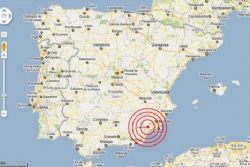 Of all places, and all days for an Earthquake to hit the Spanish mainland, Christmas Day in Lorca was perhaps the most poignant.
It was fortunate that it was not significant enough to cause damage to either property or local residents, measuring just 2.0 on the Richter scale at 21:47 local time, at a depth of just 6km.
What made the seismic activity of significance was that the same fault caused a devastating earthquake on Christmas Day 1884, when it is thought to have resulted in the deaths of around 900 people and the destruction of an estimated 14'000 properties in the rural villages of Northern Andalucia.
As for the location, the Town of Lorca, barely 80km from the Epicentres of the Ubeda earthquakes, was significant as it was hit by 2 Earthquakes in May 2011 that measured 4.5 and 5.2 on the Richter scale and resulted in deaths of 9 people and millions of Euros in damage to properties.
Over recent weeks Spain's National Geological Institute (IGN) has reported how more than 200 seismic activities have taken place in and around the Town of Ubeda, Jaen.
Although only a small percentage of the earthquakes were strong enough to be felt by local residents of the surface, the relatively high frequencies and shallow depths prompted fears by many living in South-Eastern Spain, that the conclusions of a recent study that that the earthquakes could happen again in the near future would be proved correct.
Read earlier news stories on the Jaen earthquake swarm by clicking the link >> HERE <<.