Telefonica cuts overseas call rates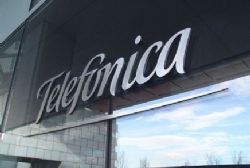 Telefonica said it had cut overseas call rates in Spain in the company's latest move to hold onto existing customers in an increasingly competitive environment.
Telefonica's share of the Spanish mobile market dipped to 37% in October from 40% a year earlier.
Virtual mobile operators and smaller mobile operator Yoigo are gaining market share with cheap prices, sometimes aimed at immigrants.
The company's revenues in Spain, where unemployment stands at 25%, have also slipped, especially since Telefonica stopped subsidising handsets in March. It lost 284,000 mobile connections in October.
Telefonica is fighting back by cutting rates and promoting service packages, as it also moves to cut a massive debt load. In July it scrapped its dividend for the first time in more than 70 years.
The new offer - Habla Internacional - will allow pre-pay customers to call 40 countries at rates from €0.01 a minute for a fixed charge of €1 a month. The rates are competitive with those of virtual operators Happy Movil and Lebara.
"The company is continuing to focus its strategy on client needs with this offer - in this case for those who have family abroad," Telefonica said in a statement on Wednesday.
It also is betting its quadplay Fusion package, which offers bundled television, broadband, mobile and fixed line services, will retain customers. Telefonica said last week it had beaten its forecast for uptake for Fusion, with 1 million customers signed up.
Spain is home to 5.7 million foreigners, around 12% of the population. The biggest foreign community is from Romania, with large populations also from Morocco, Latin American countries and Britain.
Virtual mobile operators signed up 78,550 new clients in October, accounting for 8.5% of the Spanish mobile market, up from 6% a year earlier.