Spain sees fall in export of weapons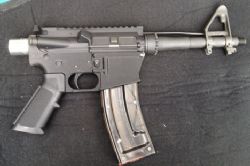 The export of weapons and ammunition from Spain decreased by 43.7% in the first half of 2012, compared to the same period a year earlier, according to a report issued by the Ministry for Industry yesterday.
Yet the sale of arms and ordance for export for this period alone still amounted to €619 Billion.
The figures includes sales of weaponry for Security and Police forces, aswell as for Huntings and Sporting purposes.
The largest single transaction was the sale of a Naval patrol ship for export to Venezuela, to the value of €162 Billion.
The EU accounted for almost 42% of all other sales, which were made up mainly of the sale of component for the Eurofighter and A-400-M Miltary joint ventures with Germany, Italy and the UK.
Other notable shipments for Non-EU countries included Brazil,Turkey,Ghana, Mexico, Chile, Peru, Tunisia and South Africa.