Bankia to wipe out shareholders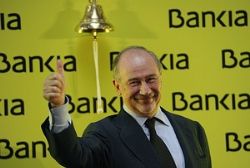 Spanish lender Bankia will wipe out 350,000 shareholders, many of them small savers with little knowledge of financial markets, after it emerged it had a negative value of €4.2 billion.
The measure, which will hit shareholders who were encouraged by aggressive marketing tactics to invest in the company, is seen as vital if the nationalised bank is to be refloated.
A source close to the Bank of Spain said Bankia would receive €18 billion of EU money by Friday and launch a capital increase in the first half of January when current shareholders will lose practically their entire investment.
Under the EU plan to prop up Spain's banking sector, shareholders must be the first in the queue to suffer losses. This has already been the case in Ireland where shareholders in Anglo Irish Bank were left with nothing.
"Are we looking into leaving shareholders with something? Yes. How much? That's too soon to say. Will it be very little? For sure," said the source on condition of anonymity.
"But that will be purely symbolic. I can assure you they will lose up to the shirt on their back."
The source also said the issue was under discussion with the EU authorities and that the final figure would be known when the capital increase takes place in January.
Another source with direct knowledge of the process said the final value of the shares would be close to nothing but that neither the Spanish government nor the bank wanted to send the message that Bankia's shareholders had lost it all.
Hundreds of thousands of Spaniards, some retired people with no in-depth financial knowledge, invested their savings into Bankia shares when the bank was listed in July 2011. Shares have plummeted more than 80% since then.
Some small savers, lured by aggressive marketing campaigns, also bought high-risk instruments, such as preference shares or subordinated debt, on which they will also suffer steep losses.
Enrique Marquez, a 66-year-old retired technician, said he had invested €7,000 in shares and more than €70,000 in preference shares with Bankia.
"The bank manager advised me to buy the shares. He told me it was interesting, that the staff were investing too and that it could be very profitable in the medium term," he said.
"It seems to be to have been managed extraordinarily badly. It is a total cock-up. I've been duped on the preference shares and I've been duped on the ordinary shares. It's been an abuse of trust."
Marquez says his future is more uncertain now because of the money he has lost. The interest payments on the preference shares supplemented his pension but they dried up in May or June.
REVIVAL ?
Shares in Bankia, which was nationalised in May, fell 13% on Thursday after the state bank rescue fund FROB disclosed it had a negative valuation of €4.2 billion while its parent group BFA was worth a negative €10.4 billion.
Separately, the FROB also announced it would take over 99.9% of Banco de Valencia before it is sold to CaixaBank while shareholders in other nationalised lenders NCG Banco and Catalunya Banc will be fully wiped out.
In Ireland's Anglo Irish Bank, shareholders whose equity was once worth €13 billion were left with nothing following the bank's €4-billion recapitalisation and immediate nationalisation in January 2009.
Anglo ultimately needed another €25.3 billion of state money, which was funded by a "promissory note" or government IOU that Ireland is now trying to restructure.
Spain's 4 nationalised lenders will receive in total €37 billion of EU funds. It will also tap another €4.4 billion to set up a "bad bank" and recapitalise smaller banks.
In return, junior bondholders will take a loss on their holdings, toxic real estate assets will be transferred into a so-called bad bank where they will be held until they can be sold off later and thousands of jobs will be cut.
The plan to revive Bankia, a merger of seven former savings banks which invested heavily in the real estate sector during a decade-long boom which ended abruptly in 2007, also foresees a reduction of more of 60% of its balance sheet over the next 5 years as well as asset sales.
Both the shareholder wipe-out and the downsizing are key in the revival strategy of the bank. The lender, which accounts for around 10% of Spain's banking market, is too big to be sold to a bigger rival, bankers say.
"The large Spanish banks would struggle to take on something of that size," said one Madrid-based investment banker, on condition of anonymity.
One possibility could be selling the bank to a foreign lender, maybe in 2017, bankers said. Around 10% of a stabilised market, flush with rescue cash and stripped of toxic real estate assets, may be an attractive investment proposition for a foreign bank, they said.
Another way for the state to extricate itself from its investment would be to sell shares in a public offering at some time in the future, bankers said.