Iberia Employees Protest in Madrid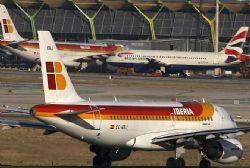 Disgruntled workers from Spain's Iberia Airlines today protested in the capital over the company's proposal to slash as many as 4'500 jobs.
The airline is currently undertaking a restructuring plan in a bid to cut losses and become profitable once again. The Airline's creation of their Iberia Express budget airline subsidiary earlier last year caused a number of strikes by workers who were concerned that the move would lead to such job cuts with their parent company.
Back in November Unions announced that they would hold 6 days of strike action in protest of the loss of 26% of the workforce, but the action was subsequently cancelled .
Now it seems that the protest is back on - unofficially at least - with claims by the Spanish workers that cuts directly benefit the airline's sister company British Airways, following their merger in 2011.
Last month the International Airline Group - the parent company of both BA and Iberia - posted a 96% fall in 9 month operating profits to just €17 million.
This was pulled lower by a €262 million operating loss at Iberia, while BA posted a 9-month operating profit of €286 million.
IAG hopes the plan will improve profits by at least €600 million in the next 3 years.