Spain's Doctors call end to strike action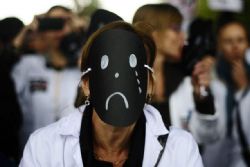 Doctors in Spain's Madrid region called off a strike on Friday after failing to halt plans to privatise six hospitals and dozens of clinics.
The Madrid regional government aims to save €200 million by putting the hospitals and clinics under private management. The region's elected assembly approved the plan on Thursday.
Spain has implemented tough austerity measures this year to help it reach a EU agreed budget deficit target and stave off a bailout. The country's 17 autonomous regions control their own spending on healthcare and education.
The strike lasted for five weeks, during which doctors only saw patients on Fridays. Rallies organised by healthcare unions in the capital drew thousands of doctors and their supporters.
Emergency services were not affected - despite news earlier this month that Ambulances were to start charging for non-emergency call-outs and journeys.
"We went on strike because we want to stop the new ... plan and that has not changed," said Belen Padilla from one union, the Association of Madrid Doctors and Specialists.