Over half of Pais Vasco support Independence from Spain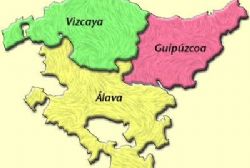 Almost half of all Pais Vasco residents are in favour on holding a referendum on Independence from Spain.
An opinion poll held throughout the Basque Country by Euskobarometro also found that just 38% were against holding a referendum to decide a split from Spain.
Almost two-thirds of the pro-referendum residents declared themselves to be "strongly" in favour of such a move.
The poll also showed that 72% of the population were "relatively satisfied" with the statute of autonomy, compared to 19% who said they were not satisfied.
Those surveyed were also asked if they thought they would be better off living as residents of an Independent Pais Vasco, with 27% believing that they would be better off, 34% worse off and with 12% Doubting that anything would change.
Earlier in December the Autonomous Community of Catalonia voted in favour of holding a referendum of Independence from Spain, which must be held before the end of 2014.