New Iberia Pilots must be employed at 40% less pay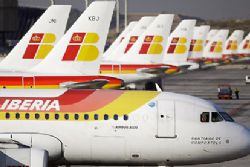 The Government-appointed arbitrator, Jaime Montalvo, hired by Rajoy in April to mediate between pilots and Iberia over the creation of their low-cost subsidairy, has ruled that a new Pilot will be hired on a 40% reduced salary.
Airline and Union officials alike have been analyzing the arbitrator's latest ruling, which would stay in force until the end of 2014 and can still be challenged by either side of the parties involved. The most controversial point in the set of proposals is the introduction of similar pay scales for Iberia and Iberia Express pilots.
The offer by Montalvo, stipulates a starting base salary for commanders at €34,400 as opposed to the €88,906 they are entitled to. After 13 years on the job, those salaries would be hiked to €91,803 as opposed to the €146,128 veteran pilots now receive.
However this judgement does not allow for any reductions in pay for the 1,441 pilots who currently work at Iberia, something which the company had proposed last month in its restructuring plan. Iberia and its parent company IAG want to drop salaries between 25-35% for the entire workforce and lay off 4,500 employees worldwide, including 537 pilots.
Another ruling restricts Iberia Express's flights, which cannot surpass more than 25% of its parent company. The low-cost carrier's service will also be limited to short- and medium-haul routes, with flight times of no more than 6 hours.