20 More Earthquakes in Andalucia since Midnight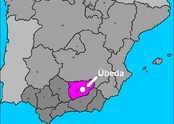 The Earthquake swarm that has been active in and around the villages to the North and East of the Town of Ubeda, Jaen, have shown little signs of abating over recent days.
The total number of seismic activities now recorded in the area since the recent "swarm" began on the 9th of December currently stands at more than 300.
Between the hours of 00.00 and 12.00 hrs today - the 29th December - alone, Spain's National Geological Institute (IGN) have reported a total of 20 such activities.
The earthquakes measured between 1.5 and 3.4 on the Richter scale, and at relatively shallow depths of between 1 and 5 km.
2 of the activities were strong enough to be felt on the surface by local residents of the village of Torreperogil, and to register as high as III and IV on the Moment Magnitude Scale (MMS).
Click >> HERE << for previous news stories on the Jaen Earthquakes, and an explanation of the differences between the Richter and MMS scales.