Bolivia nationlises Iberdrola business units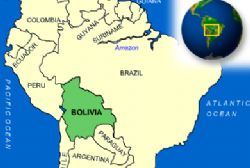 Earlier today the President of Bolivia ordered the nationalization of 4 business units owned by Iberdrola, Spain's largest utility company.
"We have been forced to make this decision as we want to have egalitarian electricity rates in rural and urban areas," Morales said this morning in a broadcast from the presidential palace.
Morales has moved to put the telecommunications, energy and water industries under state control since taking power in 2006. In June, the government nationalized the Colquiri tin and zinc mine owned by Glencore Interational Plc.
Iberdrola has been notified by Bolivia that the government has nationalized its electricity holdings in the South American country, spokesman Jose Luis Gonzalez Besada said in a telephone interview. He declined to comment further.
The units include 2 electricity distributors, a service company and an investment firm, said a Bolivian government official in a telephone interview from La Paz. He asked not to be identified as he isn't an authorized spokesman.
Iberdrola should receive compensation after an independent review of its assets within the next 6 months, Morales said today in his television broadcast.
At least 15 companies have been nationalized in Bolivia since 2006.
Iberdrola's electricity distributors are the largest in Bolivia's capital of La Paz and the city of Oruro. Only 33% of homes in rural Bolivia and 87% of urban homes have access to electricity, the Energy Ministry said on its website.