Spain : On this day in history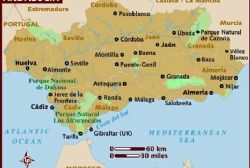 On December 30, 1066, the Jews of Granada, Spain, fell victim to a massacre at the hands of an angry mob of Arabs - with an estimated 4,000 killed, which arose due to the murder of Joseph Ibn Naghrela, the Jewish vizier to the Berber king of Andalusia.
The history of the incident is hazy, but it seems that the catalyst for the violence was due to inter-tribal hostilities between the North African Arab and Berber communities that had recently conquered and colonized southern Spain.
Joseph Ibn Naghrela was the descendent of a line of Viziers to the Kings of Andalucia, although it seems that unlike his predecessors, he was unpopular in Granada.
An Arab jurist who aspired to a position at the court, wrote a poem accusing Joseph and his fellow Jews of a plot against the King's son. The king was not impressed by the charges, but they still managed to whip up a feeling of ill-will against the Jewish population living in Granada at the time.
On December 30, 1066, which fell on the Sabbath, an angry Muslim crowd attacked the palace in Granada and grabbed Joseph, who had taken refuge there. They crucified him, and then proceeded to butcher other members of the Jewish community.
Jews were finally and officially evicted from Spain in 1492, and their possessions confiscated.
The Chief Sephardic Jewish Rabbi of Israel, Shlomo Moshe Amar, became the first Jewish leader to visit Spain in over 500 years when he met with regional officials in Granada last year. The visit paved the way for an announcement by the Government last month that the descendants of all Sephardic (Of Spanish origin) Jews will now be able to claim Spanish Citizenship .
Of an estimated 3 Million Sephardic Jews throughout the world, just 25'000 are thought to currently reside in Spain.
Recommended Reading
• Haaretz : Massacre in Granada