Bankia investors look to courts for justice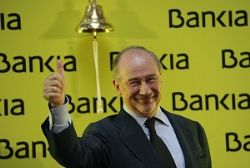 Spanish savers and pensioners who have seen their money wiped out by investing in state-rescued lender Bankia are likely to seek redress in court rather than wait for any official inquiry, which looks increasingly unlikely.
About 350,000 stockholders will share the pain of the bank's European bailout, many of them bank clients who were sold the shares through an aggressive marketing campaign for its stock market flotation in 2011.
Shares in the lender, rescued by the state in May in Spain's biggest ever bank bailout, fell to record lows on Friday, tumbling over 40% from the start of the week after it emerged losses on bad loans were worse than expected.
"Going to the courts and seeing if a judge can bring us justice is the only path left to us," said Maricarmen Olivares, whose parents lost €600,000 they made from selling her father's car workshop by investing in Bankia preference shares.
Neither of the 2 main political parties want to push for a full investigation into Bankia's demise, which could draw attention to their own role in a debacle that has driven Spain to the brink of an international rescue, commentators say.
"Investigations work when a political party has something to gain over another. In this case, no-one has anything to gain," said Juan Carlos Rodriguez, of consultancy Analistas Socio Politicos.
"I don't see the big parties investigating this because if there have been errors committed, they have been committed by both sides."
The Socialist Party was in power when Bankia was formed in 2010 from an ill-matched combination of seven regional savings banks, a union that concentrated an unsustainable exposure to Spain's collapsed property sector.
Immense political pressure from the then government forced Bankia executives to push ahead with an initial public offering in July 2011 as Spain sought to bring private capital into its banking system and avoid an EU bailout.
Then chairman, Rodrigo Rato, a former chief of the IMF, had strong links to the centre-right PP and was finance minister in a previous PP administration.
A small political party, UPyD, forced the High Court in July to open an investigation into whether Rato, ousted when the bank was nationalized in May, and 32 other former board members are guilty of fraud, price-fixing or falsifying accounts.
Investigating magistrate Fernando Andreu has so far not brought charges against anyone and could still drop the case.
"WE WON'T SEE OUR MONEY AGAIN"
Rato appeared in a private session before the judge on December 20 where he denied any blame for what happened.
Rato, who cannot legally speak to the press because he is the subject of a court investigation, has kept a low profile since the bank rescue in May. Protesters gathered outside the court on the day of his declaration wearing masks of his face.
The probe centres around Bankia's stock market listing, the formation of the lender from the 7 savings banks and the gaping capital shortfall revealed at the bank after the state takeover in May.
Rato and 23 others including bank executives and cabinet ministers were called to testify before a parliamentary committee in July this year where Rato said he had a clear conscience and had done things properly.
"That was just window-dressing by the PP following the outcry over the Bankia disaster," said a Socialist Party source.
The opposition Socialists called for a full parliamentary investigation in May, but the ruling PP blocked it, the Socialist Party source said. A PP spokeswoman said any investigation of Bankia should be carried out through the courts, not the government.
A government source said any investigative process would not fall to the government, but to the courts.
Bankia, alongside other Spanish banks, sold billions of euros of preference shares and subordinated debt to high street clients, many of whom say they were tricked into parting with their savings and are seeking compensation.
The investigating magistrate is not including the mis-selling of preference shares - hybrid instruments that fall between a share and a bond - in the probe.
Holders of preference shares at Bankia will incur losses of up to 46% as part of the EU bailout, receiving shares rather than cash in exchange.
"We won't see our money again, that's for sure. They'll give us shares, but shares with no value or credibility in a nationalized bank," said Olivares, who said she had heard nothing from the bank as to how much their losses would be.
The losses each investor will have to take has yet to be decided, a Bankia spokesman said, adding that hybrid debtholders at all rescued banks had to take losses, not just at Bankia.
A source close to the court investigation said there would certainly be scope for a separate wider probe into the mis-selling of preference shares, not just at Bankia, but throughout Spain's savings banks. Olivares, like many other small savers at Spain's state-rescued banks, claims her parents were sold the preference shares as a kind of high-interest savings account and that the bank staff did not explain the risks attached.
The government is in the process of setting up an arbitration process to compensate Bankia clients who can prove that they were duped into buying preference shares, Economy Minister Luis de Guindos said last week.
But many ordinary Spaniards who lost their life savings through the Bankia rescue say this is not enough and they want answers as to what happened to their money.
"We want justice, at least some kind of recognition that we were swindled," said Raimundo Guillen, a 50-year-old electricity station worker who put €30,000 in preference shares with Bankia under the impression they were a form of savings account.
"It's as if they've stolen your wallet - blatantly, with their face uncovered."