Paramount Murcia faces investor competition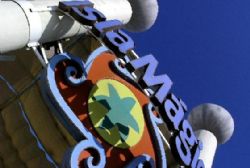 Recent movements in the Spanish Theme Park World are likely to cause unease to those involved with the Paramount Pictures Theme Park project in Murcia.
After selling their 50% stake in Tarragona's PortAventura theme park, La Caixa is thought to be considering the sale of Parque Isla Mágica SA. (PIMSA), in Sevilla.
The Bank - through their investment arm Criteria CaixaHolding - became the main shareholder in the Park to absorb the savings group gathered around Banca Civica .
The park, which employs around 600 people, has hired an agent to seek out potential investors interested in acquiring the 82% stake currently owned by the Bank.
The remaining 18% ownership is made of Unicaja (6.97% stake); Ogden International Europe (2.8%), Aldeasa (1.77% ), the City of Sevilla (1.73%), Acciona (1.35%), the Provincial Society Prodetur (1.41%), Caja Spain (0.75%), the Municipal Planning ( 0.25%) and Banesto (0.19%).
Andalucia's Deputy Minister of Tourism and Commerce, Antonio Jesus Roldan, has offered to mediate in any procedings ensure the continuity of operations at the theme park to allow it to continue as "tourist emblem of Seville and a leisure park that is reference for Andalusia ".
Criteria CaixaHolding, is thought to be moving away from both the PortAventura and Isla Magica theme parks in order to concentrate on the proposed BCN World / Barcelona World Development.
With the Paramount Murcia team still fighting to secure enough investment to finalise the project, surely having a second - and existing - Spanish theme park seeking investors can't help matters ?