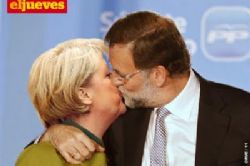 Mariano Rajoy has plans to visit Chile, Peru, Panama and Algeria over the course of 2013, aswells as meeting with the President of the United States at the White House.
The PM's first trip abroad this year will be to Algiers to participate in the 5th High-Level Meeting between Spain and Algeria, according to Government sources.
The economic crisis, the situation of countries that participated in the "Arab Spring" and the threat of terrorism throughout the Sahel region will be some of the main issues that will be discussed at the summit.
Rajoy will then fly to Chile at the end of the month to participate in the EU, Latin America and Caribbean Summit, which will be attended by numerous leaders from all countries in these regions.
Whilst in South America the PM will travel to Lima for an official visit to Peru to meeting with Presdent Ollanta Humala.
February will begin with a trip to the German capital, where Rajoy will take part in the annual bilateral summit with Chancellor Angela Merkel.
later on in the year the PM will also attend the G20 Summit in St. Petersburg, Russia, as well as a High-Level Meeting with Turkey, the bilateral summit with Italy and the Ibero-American Summit in Panama.